Below is a comparison between squash, racketball [officially called Squash 57], and Rapidball
Equipment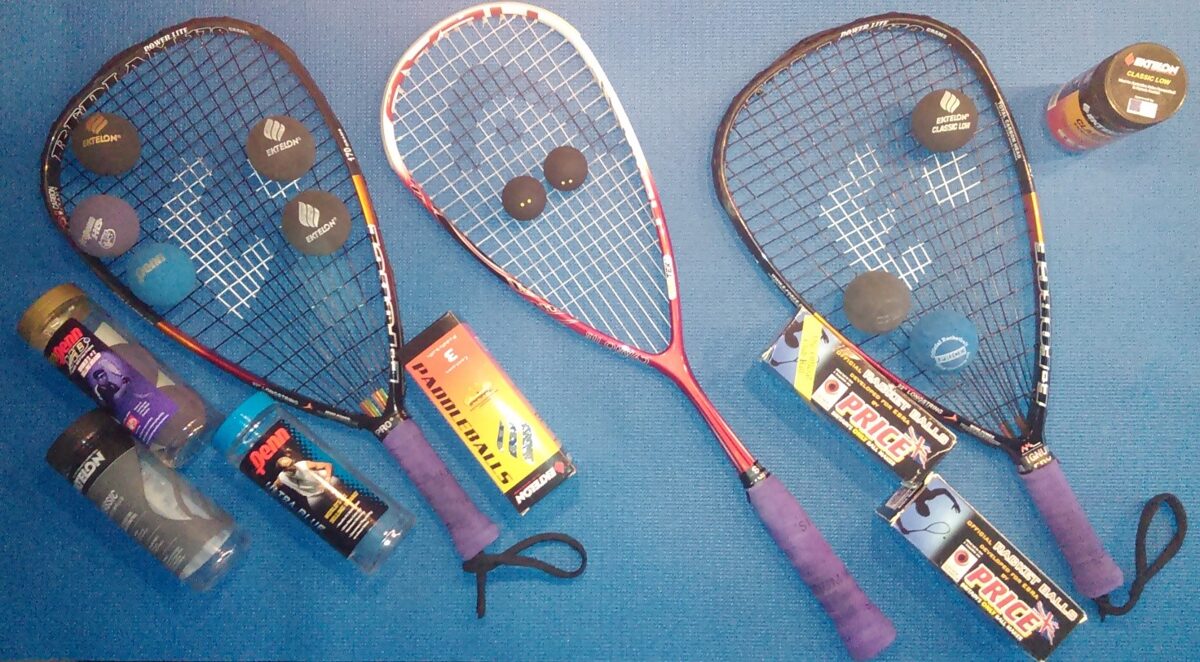 Left: Equipment for Rapidball . Far left various balls from Penn and Ektelon intended for American Racquetball . Despite the different colors, they are not very different. To the right of the same racket are Ektelon balls from American Four Wall Paddleball [The Paddleball Association now recommends the Gearbox brand instead of Ektelon]. These have a lower bounce, somewhere in the middle between the balls of American Racquetball and UK racketball.
Right: Equipment for UK racketball. The balls from Price and Ektelon are intended specifically for UK racketball ["Squash 57"] .
The two rackets from E-Force are the same. Just like squash, there are a wide range of racket makes and variants for racquetball / racketball / Rapidball.
In the middle squash rackets and balls for comparison.
Rules and Play

Squash

Racketball (UK)

Rapidball

Racquetball (US)

Equipment

Playing field


Squash court (approx. 9.75 m long, 6.4 m wide, 5.6 m high)

Squash court

Squash court

Racquetball court (12.2 m long, 6.1 m wide, 6 , 1 m high).

Rackets

Squash rackets (max 68.6 cm long, area max 500 sq . cm)

Weight typically 110-165 gr.




Like American Racquetball rackets

Like American Racquetball rackets

Racquetball/Racketball Rackets: Max. 55,9 cm long, area max. 645 square cm)

Weight typically 175-250 grams.




Balls

Diameter: approx . 40 mm

Weight: approx . 24 grams.

Bounce: Depends on the temperature .

Must be warmed up, before it is ready for use.

Diameter : approx . 56 mm.

Weight : approx . 40 grams.

Bounce: Approx. 33% of vertical drop.

1) Like US Racquetball (see this), or

2) Like Four Wall Paddleball:

Diameter: approx. 59 mm.

Weight : approx . 42 grams.

Bounce: Approx. 50% of vertical drop.

Ready for use without heating

Diameter : approx . 57 mm.

Weight : approx . 41 grams.

Bounce: Approx. 70% of vertical drop.

Ready for use without heating

The "tin"

Barely 50 cm high metal plate at the bottom of the front wall - the ball is out, if it hits the "tin"

Same as squash

Same as squash

Does not exist - the ball may hit the front wall all the way down to the floor

Service line

The serve must be above the service line on the front wall

Does not matter - the serve should only be above the "tin"

Same as squash

Does not exist, the serve just needs to be above the floor

History

Origin

Approx. 1830 at Harrow School England

Invented by Ian DW Wright in 1976 and introduced to England in the 1980s by Tony Gathercole .

Invented by Peter V. Haighton ca. 2000.

Invented by Joe Sobek in 1950 at the YMCA in Greenwich, New York.

Where played


Worldwide

Primarily England and the rest of Europe

Largest distribution in Mallorca, Spain

USA, Canada, Australia

Rules

Serve

The ball is thrown up in the air with one hand. Before hitting the floor, it must be hit onto the front wall above the service line with the racket

Drop the ball on the floor with one hand so that it bounces back up. When it bounces up, it must be hit with the racket onto the front wall above the "tin"

Drop the ball on the floor with one hand so that it bounces back up. When it bounces up, it must be hit with the racket onto the front wall above the serve line (as in squash)

Drop the ball on the floor with one hand so that it bounces back up. When it bounces up, it must be hit with the racket onto the front wall .

After the serve has hit the front wall

Must hit within the receiving field and may hit the side wall and back wall before it hits the floor

Must hit within the receiving field and may hit the side wall, but not the back wall, before hitting the floor

Must hit within the receiving field and must hit the floor before the side wall or back wall

Must hit the receiving field and may hit one side wall but not the back wall, and not the ceiling before it hits the floor.

Serve attempt


Only one serve attempt allowed


Two serve attempts, unless the ball on the first attempt goes off the court or into the floor

Only one serve attempt allowed


Two, unless the ball in the first attempt goes off the field or into the floor

The ceiling

The ball is out if it touches the ceiling or walls above the out-line


Same as squash

Same as squash

Apart from the serve, the ball may hit the ceiling.

Score

Best of 5 games to 11. Games must be won by two excess points, e.g. 11-9, 15-13

Same as squash

Can be agreed in advance, often best of 5 games to 8, the receiver to decide whether to continue to 8 or 10 in case the score stands at 7 - 7.


Best of 3 games, the first two to15, third to 11. No requirement for two excess points